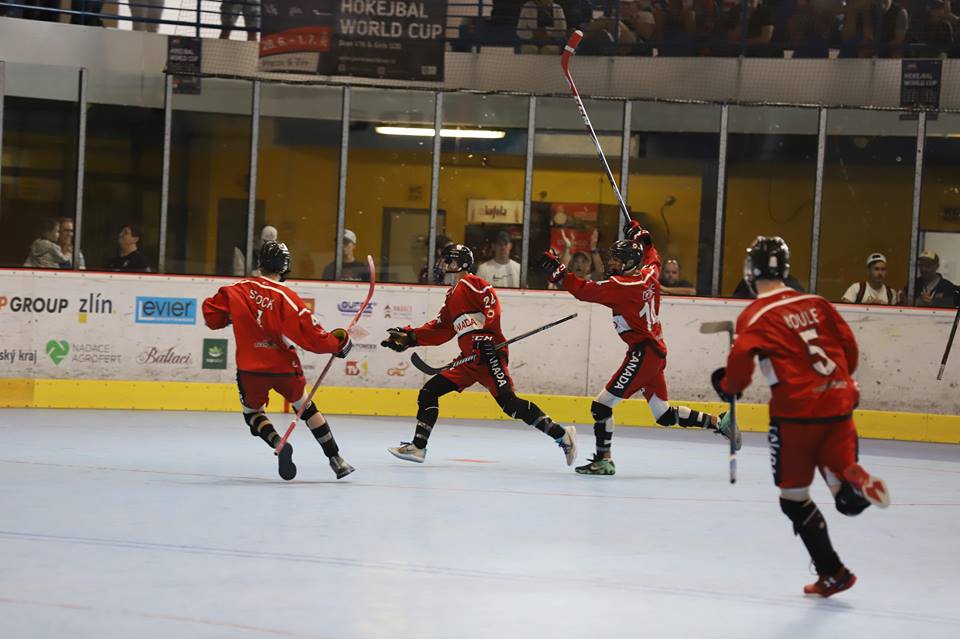 The play of both teams was quite careful in the early minutes. Maybe the players were a bit jittery, but this lasted just a little while. The Slovaks became a bit more active and created more chances to score. Samuel Bodnar had the biggest scoring opportunity in the first period after he got a clever pass in front of the goal but didn't manage to shoot the ball into the empty part of the goal. The Canadians, on the other side, were dangerous especially during their power plays but Slovak goalie Daniel Duris stopped all of the shots.
It took a few minutes, but in the second period the first goal of the game was scored. Lukas Vaculik found his position in front of the goal and sent the ball into the net after a pass from Roman Faith. After allowing the first goal, the Canadians moved their play onto a higher level and became the slightly better team on the floor. Late in the second, they scored two goals within 90 seconds and took the lead. First, it was Ethan McKinley who fired the Slovak goalie on a hard shot and put Canada West on the board. With just three seconds left in the period, Ethan McKinley found the ball in the crease and scored over the blocker of Duris.
The story was set for the third period – the Slovaks had to score to keep their hopes of winning alive, but their offensive effort kept crashing into the well-organized Canadian defence. The European team wasn't able to push their opponent in the zone and if there were any shots, the goalie Logan Willcott was on his place and caught them. With 36 seconds left, the Slovaks took a timeout and pulled their goalie. But the Canadians stayed tight and finally, they scored an empty-netter two seconds before the end. Mathew Gerge got the ball at the blue line and sent it into the goal to make it 3–1.
Team Canada West made Canada Day, which is celebrated in the country on the 1st of July, a bit more special for themselves. Thanks to their impressive performance in Zlin, they are now the latest champions in the U16 category.
Reactions
Coach of Canada West: "Unreal, incredible! We are really very happy ... " p>
Coach of Slovakia: "It was an extremely challenging tournament. We thought maybe one game would be less demanding, but the opposite was true. Every game was hard, which is how we like it. We had enough chances in the final, but we lacked a bit of patience at the end. We had to beat Canada, but it did not happen." P>
---